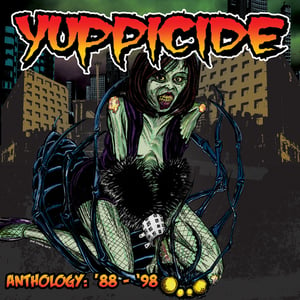 $

14.00
YUPPICIDE "Anthology '88-'98" Double Compact Disc.
Two CDs containing everything they recorded during the 1988 -1998 time frame. Contains the music from demos, EPs, compilation tracks, and three full length albums. Yuppicide's timeless music appeals to Punks, Skins, Metal and Hardcore fans alike.
Full color CD booklet features 24 pages of lyrics, liner notes, rare photos, flyers, rare artwork. and more.
CD Track Listing:

DISC 1
1988 Demo
1. Fistful of Credit Cards
2. Roots of Scorn
3. How to Hate
4. Blind
5. Ska Army
6. Bang Bang
7. Big Head
8. All for Nothing
9. Yellow Journalism
First S/T 7"
10. Fistful of Credit Cards
11. Roots of Scorn
12. Be A Man (and Slam)
13. Envy
14. Jesse Helms
Squat Or Rot #2 7"comp
15. Ourselves
Fear Love LP
16. Sound Advice
17. All for Nothing
18. Bang-Bang
19. Yellow Journalism
20. Difference
21. Albatross
22. Have fun or...
23. Identity
24. Big Head
25. How to Hate
26. Dr. Extermination
27. Knife
28. Blind
29. Cide-A-Billy
You've Been Warned 7"
30. I Wish
31. True Love
32. Out of Style
DISC 2
Sick But Slick 7" comp
1. Socialization
Shinebox LP
2. Intro
3. Lucky 13
4. Tumble
5. Tailmouth
6. New Jesus
7. Follow the Leader
8. Right
9. Whispers
10. Stranded
11. Sleep With Anger
12. Six Bullet Plan
Dead Man Walking LP
13. Meatpacker
14. Nice Guys Finish Last
15. Thief
16. Twelve Steps
17. Tied Down
18. The Cleaner
19. Fuse
20. Four Letter Word
21. 2 Cents
22. The One I Love
1998 Demo
23. Azazel
24. Destroyer
25. Obsolete
26. Concrete Jungle