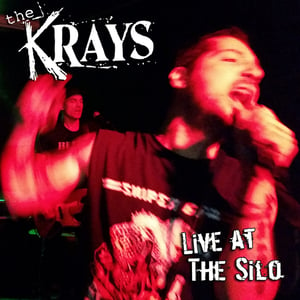 $

5.00
THE KRAYS "Live At The Silo" Compact Disc.
BRAND NEW!
Released on May 6, 2016!
Back in 2007 The Krays hit the road and toured with the Dropkick Murphys. One of those shows took place at The Silo Nightclub in Reading Pennsylvania. The Krays blistered through their high octane set that night whipping the crowd into a frenzy. Professionally recorded and then mixed by Johnny Kray, "Live At The Silo" features all of the fans favorite songs.
This is the first official live release by one of New York City's greatest punk bands. Amazing riffs, catchy choruses, intelligent lyrics, and raw energy are what The Krays are all about.
Originally this album was only going to be available for download, but we made a limited edition CD (only 100 made in a cardboard pocket) for fans of CDs.
Track Listing:
1. Troubled Times
2. Your Own Personal War
3. One Stop
4. Radio
5. Write Us Off
6. Guns Of Brooklyn
7. Too Lazy
8. Slick Back Nothing
9. They Control You
10. Rip And Tear
11. You Bastards
12. More In The Crowd