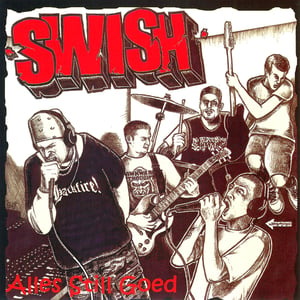 $

10.00
SWISH "Alles Still Goed" Compact Disc.
Members of AWKWARD THOUGHT (NYC), NO REDEEMING SOCIAL VALUE (NYC), and BACKFIRE ( Netherlands ) join forces to record a hardcore punk classic! Fast aggressive punk rock with a few extra suprises by Wrongway Flyer mastermind Gary Gilmore. Strange indeed! This is Richie Backfire's last recording.
Full color CD booklet contains Lyrics, Bio, Liner Notes, Rare Photos, and more.
Track Listing:
1. Rumers About Rumers
2. Maurice The Place
3. Get Up
4. Overtime
5. Hou D'n Waffel
6. Chew The Gum
7. I thought i knew turtles
8. Hooruh
9. Leave Me Alone
10. Iech Hoof Geine Hond
11. Kinsum