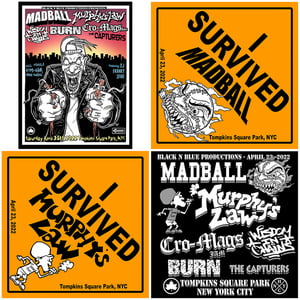 $

10.00
I SURVIVED THE PARK SHOW 2022 Sticker Pack.
Set of 4 Vinyl Stickers.
Commemorative Sticker Set for the Tompkins Square Park show in New York City on April 23, 2022. The show featured MADBALL, MURPHY'S LAW, CRO-MAGS JM, BURN, WISDOM IN CHAINS, THE CAPTURERS.
Three square stickers are 4 inches x 4 inches.
Once rectangle sticker is approx 3 inch wide x 4 inch tall.
Each sticker features the show date and park name.
Four Stickers Total.