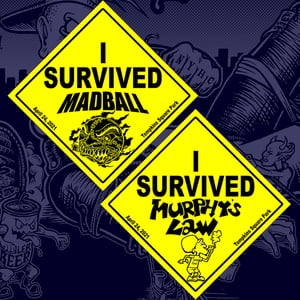 $

5.00
I SURVIVED THE PARK SHOW 2021 Sticker Pack.
Set of 2 Vinyl Stickers.
Commemorative Sticker Set for the Tompkins Square Park show in New York City on April 24, 2021. This show was one of the first shows back from the Covid lockdowns and received much hype and publicity. The show featured MADBALL, MURPHY'S LAW, BLOODCLOT, WISDOM IN CHAINS, THE CAPTURERS.
Two square 4 inch x 4 inch stickers. Each sticker features the show date and park name.