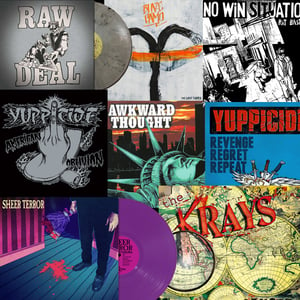 $

109.99 - On Sale
Available for a Limited Time for Record Store Day 2021....
Priced separately would cost $170.00.
Instant Vinyl Record Collection includes the following Vinyl Releases:
Raw Deal "Demo" Gray Vinyl LP.
The Krays "Sangre" Vinyl LP.
Blaze Camo "The Lost Tapes" Vinyl LP.
Yuppicide "Revenge Regret Repeat" Vinyl LP.
Awkward Thought "Mayday" Colored Vinyl LP.
Yuppicide American Oblivion" Vinyl 12" EP.
Sheer Terror "Standing Up For Falling Down" Purple Vinyl LP.
No Win Situation "Rat Bastard" 7" Vinyl.