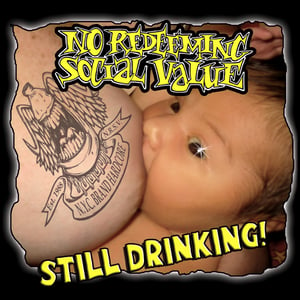 $

10.00
NO REDEEMING SOCIAL VALUE "Still Drinking" Compact Disc.
The heaviest NRSV release to date. Recorded at Atomic Recording Studio in Brooklyn NY. Features the classic legendary NRSV brand of drunken New York City Hardcore. Contains the classic anthems "Still Drinking" and 'Beer = Fun".
Guest vocals by Rev. Paul Bearer from Sheer Terror on the song "My Life Sucks". Limited tri-fold Digipak with full color CD booklet containing Lyrics, Liner Notes, Rare Photos, and more. This is an enhanced CD which also features bonus videos.
Track Listing
1. Pussy Pussy Pussy
2. Beer = Fun
3. Drinking Is Not A Game
4. I Hate Everyone
5. Fuckilleat
6. Bad Habits
7. All I Wanna Do Is Drink Beer
8. Don't Fuck With My Pooch!
9. The King Is Dead
10 My Life Sucks
11 Olde-E Fever
12. Still Drinking...
Bonus Songs:
13. Dark Fun party
14. Anal Cunt Sucks (And They're All Gay)
15. All I Ask
16. Skinheads Rule (Karaoke Kings Version)
Bonus Videos:
-Clueless In 2005
-Your Boyfriend Is A Guido
-Olde-E (Live In Germany)