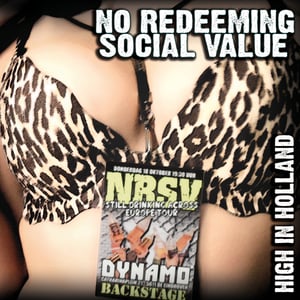 $

10.00
NO REDEEMING SOCIAL VALUE "High In Holland" Compact Disc.
No Redeeming Social Value made their way to Holland where they proceeded to annihilate the Dynamo and bring their hardcore insanity and wild antics to a nation eager to be assaulted by America's favorite hardcore band.
CD booklet contains all lyrics and live banter in printed form, liner notes and rare photos. This enhanced CD also contains bonus videos.
Track Listing:
1. Dark Fun Intro
2. More Tattoos
3. Wake Up
4. Olde-E
5. Pussy Pussy Pussy
6. Chicken
7. Fabio
8. Your Boyfriend's A Guido
9. Still Drinking
10. Don't Fuck With My Pooch
11. Beer = Fun
12. I Hate Everyone
13. Drinking Is Not A Game
14. Drunk At The Y.O.T. Reunion
15. No Regrets
16. New 64
17. Skinheads Rule
18. The World Is My Microwave
19. Raining Blood
Bonus Videos
-Beer = Fun
-Olde-E (Cologne Takeover)