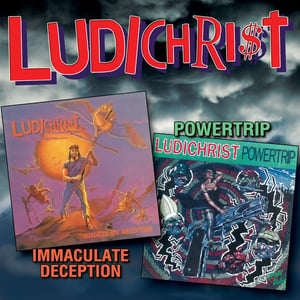 $

10.00
LUDICHRIST "Immaculate Deception & Powertrip" Double Compact Disc.
Originally released in 1986, IMMACULATE DECEPTION was considered a classic from the start. The track "You Can't Have Fun" features guest vocals by the singers of Agnostic Front, Nuclear Assault, The Crumbsuckers and Leeway. The song "Green Eggs And Ham" was light years ahead of it's time featuring a hardcore rap long before any other metal bands rapped.
Their 1988 album POWERTRIP, with its slightly more metallic sound, gained them legions of thrash metal fans (as well as hardcore fans).
Full color CD booklet features 16 pages of lyrics, liner notes, rare photos, flyers, rare artwork. and more.
Track Listing:
DISC 1
Immaculate Deception
1. Fire At The Firehouse
2. Most People Are Dicks
3. Murder Bloody Murder
4. Blown Into The Arms Of Christ
5. Big Business
6. Only As Directed
7. Games Once Played
8. Green Eggs And Ham
9. Immaculate Deception
10. You Can't Have Fun
11. Government Kids
12. Legal Murder
13. Down With The Ship
14. Thinking Of You
15. Tylenol
16. Mengele
17. Young, White And Well Behaved
18. Last Train To Clarksville
19. God Is Everywhere
DISC 2
Powertrip
1. Powertrip
2. Zad
3. Stuff to Fill Graves
4. The Tip Of My Mind
5. Damage Done
6. T.B.O.S. (Barbiere Di Siviglia)
7. This Party Sucks
8. Johnnypump
9. Yesterday For You
10. And So It Goes
11. The Well Dressed Man Disguise
12. Iwo Jima (That Manly Smell)
13. One For The Road