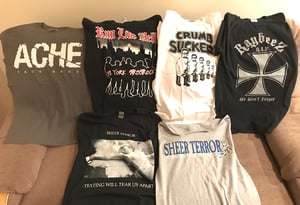 $

35.00 - On Sale
6 NEW Shirts for $35. (Normal price would be over $120).
Size SMALL Lockdown Special - Ache, Run Like Hell, Crumbsuckers, Raybeez, Sheer Terror.
Special - 6 Shirt Package Deal.
All shirts are size SMALL.
NO RETURNS. ALL SALES FINAL. All shirts are NEW and UNWORN!
Any printer misprints noted below.
This package includes:
ACHE - Fade Away Design (Misprint - back has fade marks).
RUN LIKE HELL - NY Streetrock Design.
CRUMBSUCKERS - 1984 Design.
RAYBEEZ - We Won't Forget Design.
SHEER TERROR - Texting Will Tear Us Apart Design.
SHEER TERROR - Good To Be King Design.