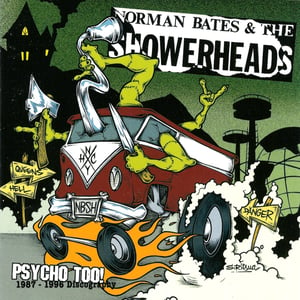 $

10.00
NORMAN BATES AND THE SHOWERHEADS "Psycho Too" Compact Disc.
Featuring their rare self titled 1988 full length record, as well as unreleased studio tracks 1990-1996, WNYU Crucuial Chaos, and live rare tracks recorded at CBGB's. These guys were part of the NY hardcore punkrock scene since the 80's when their popularity exploded from their "New York Hardcore Where The Wild Things Are" compilation appearance. One of the best hardcore punk rock bands ever!
Full Color CD booklet contains Lyrics, Liner Notes. Bio, Rare Photos, flyers, and more.
Track Listing:
1 Here They Come (Not Another Insect Story)
2 Frustrusion
3 Mailman
4 Hellminded
5 Woody Wood
6 Tarantula
7 Pseudo World
8 Marlboro Man
9 Love Of Life (I Give Up)
10 I Work In A Graveyard
11 Hooked On Thrash
12 Here We Go Again
13 Gilligan
14 Other Side Of You
15 Neanderthals At The Wire
16 Please Don't Feed The Animals
17 Face Last Seen A Frown
18 Country Roads
19 Hellminded
20 Desperate
21 Commando
22 Salesman Of Death
23 Marlboro Man